The 2014 legislative session was about more than just minimum wage.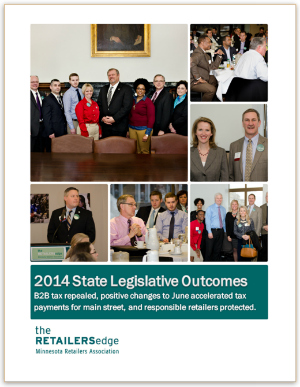 The 2014 legislative session was about more than just minimum wage. Curious what passed that will impact your retail operation?  The Minnesota Retailers Association has released it's session outcomes report., highlighting nearly three dozen issues that passed or failed.

Here is a quick preview from the report introduction by Board Chair Mike Hiltner and Legislative Policy Committee Chair Jeff Lindoo:

Under a challenging legislative environment, MnRA is pleased to announce:
The repeal of business-to-business taxes enacted last year, including the concerning storage and warehouse tax that was set to take effect April 1;
Positive main street retailer changes to the threshold and percentage of June accelerated tax payments;
Passage of industry-supported changes to Minnesota's Pharmacy Practices Act;
Protection for responsible retailers operating mobile device trade-in programs;
A year delay in the introduction of a dime deposit-refund beverage container recycling program bill;
Successful opposition to a 48-hour consumer notification mandate when a data breach occurs;
Removal of a duplicative tobacco excise tax originally passed in 2013;
Defeat of a proposal that would have required retailers to pay an hour of "sick and safe" leave for every 30 hours an employee worked.  
To received a copy of the 2014 State Legislative Outcomes report, follow the appropriate link below.