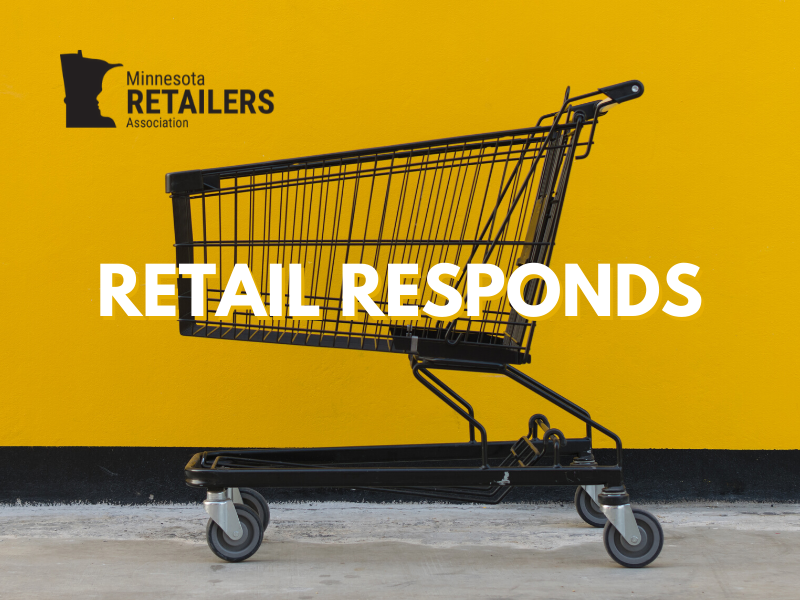 Minnesota retailers deemed non-essential and closed under Govenor Walz's stay at home Executive Order are turning their attention to their communities. At the Minnesota Retailers Association we have fielded many calls from retailers asking what they can do to make things better, including calls from clothing retailers with idle tailors.
With fewer suits to alter, clothiers are putting their fabrics and skilled workers on the task of responding to the desperate shortage of masks for healthcare workers.
"Sales losses due to COVID-19 have hit us hard, resulting in me temporarily closing our Minneapolis men's apparel store that has been around since 1916," says Hubert White's president and CEO Robert White. "As we anxiously await reopening, our tailoring staff has volunteered to make masks with some perfect fabric we have at the store. With the mask shortages we are hearing about, this is something we can put our skills to work on and make a difference in the pandemic fight. I am proud that this is how our team is responding during this very difficult time for our business and all of Minnesota."
Here is how retailers can help with the face mask shortage:
A critical need for personal protective equipment--such as masks--has surfaced over the last couple of weeks. To make the masks that provides the proper protection, your need a Centers for Disease Control and Prevention-compliant pattern, available here from Sew Good Goods. Masks can be made in two different sizes: 9"x6" adult and 7.5"x 5" child. The instructions call for a tightly woven 100% cotton fabric for the front of the mask and tightly woven 100% cotton flannel for the back.
BlueCross BlueShield of Minnesota has outlined the locations and the process for dripping off masks 9:00 a.m. - 1:00 p.m. through April 5. They ask than when donating masks at one of 14 locations, look for a "mask donation" sign and please stay in your car. A staff member will come to receive your donation.
Abbott Northwestern Hospital, Minneapolis
Abbott Northwestern Hospital – West Health, Plymouth
Buffalo Hospital, Buffalo
Cambridge Medical Center, Cambridge
District One Hospital, Faribault
Mercy Hospital – Mercy Campus, Coon Rapids
Mercy Hospital – Unity Campus, Fridley
New Ulm Medical Center, New Ulm
Owatonna Hospital, Owatonna
Regina Medical Center, Hastings
River Falls Area Hospital, River Falls, WI
St. Francis Regional Medical Center, Shakopee
United Hospital, St. Paul
Courage Kenny Rehabilitation, Golden Valley