2017 Minnesota's Retail Champions Award Winners
12 unigue Minnesota retailers and individuals to be recognized at Retail Rally October 4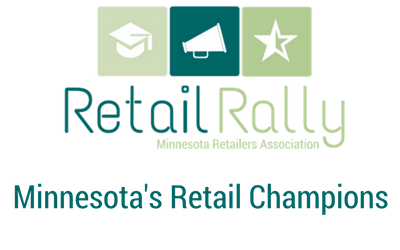 The Minnesota Retailers Association (MnRA) proud to announce the winners of the 2017 Minnesota's Retail Champion Awards.
Winners will accept their awards in person during the inaugural Retail Rally event on Wednesday, Oct. 4, 2017 at the Opus College of Business at the University of St. Thomas (1000 Lasalle Ave,, Minneapolis) beginning at 5:15 p.m.
"We are proud to recognize 12 innovative retailers and partners that rose to the top following a robust process to identify Minnesota's Retail Champions," says Bruce Nustad, Minnesota Retailers Association president. "The retail industry has a deep impact on Minnesota communities, and these award recipients are truly representative of what's great about retail across the state."
The 2017 Minnesota's Retail Champion Award recipients are:
Academic Partner of the Year
University of St. Thomas
Best Place to Work
Thrifty White Pharmacy
Customer Experience
Uffda Shop
Elected Official of the Year
Minneapolis City Councilmember Blong Yang
Advocate of the Year
Steven Rush, Holiday Companies
Outstanding Achievement
Maureen Bausch, Minnesota Super Bowl Host Committee
Retail Community of the Year
Hopkins Business & Civic Association
Retail Employee of the Year
Brooke Borg, 36 Lyn Refuel Station
Retail Innovation
Duluth Pack
Retailer of the Year
Norby's
Social Responsibility
Twin Cities Habitat for Humanity ReStore
Vendor Partner of the Year
Master Technology Group
The Minnesota Retailers Association started the award process by putting out a statewide call for nominations in the 12 categories. A panel of peer judges reviewed nearly six dozen nominations and selected the top nominee in each category.
Tickets to the reception and awards are available online at RetailRally.com.
About the Author
Bruce Nustad is president of the Minnesota Retailers Association.
This email address is being protected from spambots. You need JavaScript enabled to view it.