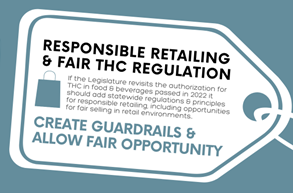 Minnesota's July 1, 2022 law expressly allows retailers to sell and consumers to purchase Hemp-derived THC-infused food and beverages.
The Minnesota Retailers Associations continues to discuss this new law with members and promotes these high-level principles for retailers and lawmakers to consider as the Legislature considers changes:
1. Responsible retailing should be fundamental in the sale to consumers, including abiding by the age 21 and packaging components of the new law. Retailers should establish a system to ensure a consumer is of-age.
2. There is an important role to be exercised in ensuring the integrity and safety of products being produced by manufacturers.
3. The opportunity to responsibly sell THC-infused products should be fair and open to retailers of all types and locations. It is clear the Legislature intended products to be available at retail outlet who are committed to responsible sales.
For more information or to share your views and ideas, contact us at This email address is being protected from spambots. You need JavaScript enabled to view it.. We are interested all perspectives on this new area of law and like many, are eager to learn.